Case Study: Anastasia
Dental Problems
Discoloured and stained teeth
Crooked and short teeth
Background
Anastasia is a mum of two beautiful children and came in to see Dr Caroline Oh in the hope to fix her smile. She had a lot of work done overseas where her front teeth were filled with composite resins, which overtime have become discoloured and unsatisfactory. As a birthday present, Anastasia was able to get the cosmetic dental treatment she desired and the results speak for itself.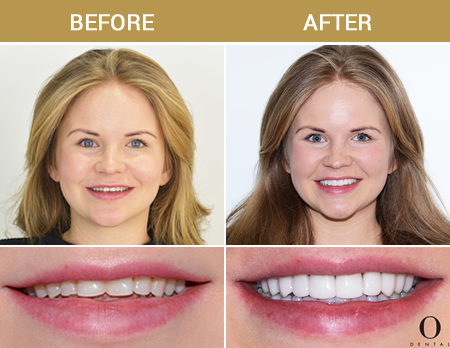 How long did it take?
Anastasia's treatment was completed in 2 weeks with 3 visits.
1st Visit: Consultation with Dr Caroline. Photos, impressions and bite were taken to design her new smile.
2nd Visit: Trial smile and bite. This involved checking the aesthetics of the proposed teeth to ensure the patient was comfortable with the new smile. Teeth preparation was done after verifying the aesthetics.
3rd Visit: Cementation of Porcelain Crowns and Veneers
Seeing Anastasia's beautiful new smile, we couldn't be happier with the results! Anastasia's transformation story is now being published in the new Vogue magazine where O Dental will be featured 2019 Feburary.

Dentist Zetland, Serving Waterloo, Kensington, Rosebery & Darling Square