Checkup and Cleans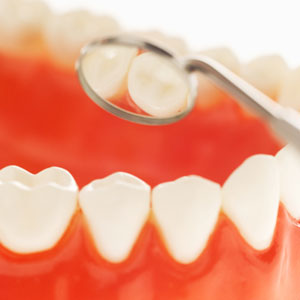 An ounce of prevention is worth a pound of cure. We encourage having preventative visits that keep your teeth and gums healthy, stopping any potential problems early on before they can become more complex. You should have a professional scale and clean done every six months. If you have gum disease or another serious oral condition, we may recommend a greater frequency.
What You Can Expect
At each of your checkup and cleans, our dental team will go through a comprehensive process:
The removal of plaque and tartar from the teeth and gumlines
A polishing of the teeth
An examination of each tooth and all soft tissues
Taking X-rays, if necessary
A fluoride treatment
Reviewing your oral hygiene routines
To finish up your checkup and clean, we'll make any recommendations appropriate to you about certain products or your oral home care that may benefit you.
Why Checkups Are Vital
You might think it's okay to miss a dental visit here and there. While we understand that life gets hectic and it can be difficult to make your appointments, delaying your checkups can have serious consequences.
The tartar buildup that sits on your teeth can lead to tooth decay and gum disease, which results in bone and tooth loss. With preventative care, you can be sure to have your natural teeth for the rest of your life. Research supports that gum disease is linked to life-threatening conditions such as stroke and heart disease, making it essential to have good oral health.
Keeping a Bright Smile
It doesn't take much time out of your day to keep your smile healthy. Your oral hygiene routine should involve brushing twice a day for at least two minutes each time. Use only a soft-bristled toothbrush. Flossing should be completed once a day.
If you notice that your gums are swollen or tender and bleed when you brush or floss, make an appointment for a checkup and clean Zetland, as these are signs of the first stage of gum disease called gingivitis.
Have You Gone Too Long Between Visits?
If you know it's been a while since your last dental checkup, we won't judge you. Contact the friendly team at O Dental today to schedule the appointment you need! Your health fund cover can be used at our practice, and we have a HICAPS machine so that your rebate can be claimed straightaway.
Any surgical or invasive procedure carries risks. Before proceeding, you should seek a second opinion from an appropriately qualified health practitioner.

Checkup and Clean Zetland, Waterloo, Kensington, Rosebery & Darling Square, NSW | 02 9697 0113