Crowns and Bridges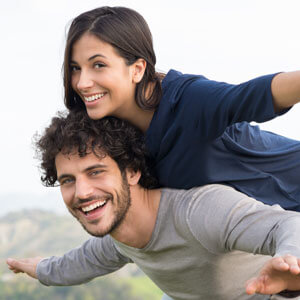 Have your teeth been damaged, or are there gaps in your smile where you've lost teeth? If so, you don't have to live with less-than-perfect oral health. You can get a dental crown or dental bridge to restore your teeth, allowing you to eat, speak and smile as you wish.
Rejuvenate Your Smile With a Crown
When you get a crown, it covers the existing structure of a tooth. There are situations in which it's appropriate to have a dental crown:
After a root canal treatment
To cover a dental implant
To prevent further trauma from grinding and clenching
To protect a tooth with severe decay
To replace a large, old filling that cracks or leaks
With our CAD/CAM system, your crown can be created on the day so that there are no prolonged waiting times.
Rebuild Your Smile With a Bridge
A dental bridge is a simple solution to one missing tooth or multiple missing teeth. It's a permanent device that is strongly cemented into place. Made up from a row of crowns, it attaches to the teeth that neighbour the gap, then suspends a fake tooth into the open space. Though it's important to clean it carefully, you'll find that it functions well.
FAQ
If I think I need a crown or bridge, what do I do to get started?
The first step is to schedule an appointment with us. During your visit, we'll discuss your concerns, then complete a detailed examination. We'll determine all possible options in addressing your needs, talking about each with you so that you can decide how you would like to proceed.
Which materials can a crown be made from?
Today, most people prefer to have their crowns made from porcelain materials that blend in with the rest of their teeth. In certain situations, such as for back teeth, metal might also be an option. We'll be sure to let you know what we recommend so that you can choose what you would like to do.
Do crowns look like natural teeth?
Yes! Your crown will be designed to exact specifications, making sure that the shape and colour blend in seamlessly with the rest of your smile.
How long will the treatment take?
The treatment for crowns or bridges Zetland usually takes place over two visits. At your first appointment, we'll prepare the teeth in question, then gather data such as impressions that are used to create your crown or bridge. At a follow-up, we'll place the crown or bridge.
Schedule Your Time With Us
If you'd like to have a routine checkup or have specific alterations you'd like to make to your smile, we can help you. Contact us today to make your booking!
Any surgical or invasive procedure carries risks. Before proceeding, you should seek a second opinion from an appropriately qualified health practitioner.

Dental Crowns and Bridges Zetland, Waterloo, Kensington, Rosebery & Darling Square, NSW | 02 9697 0113