Dental Implants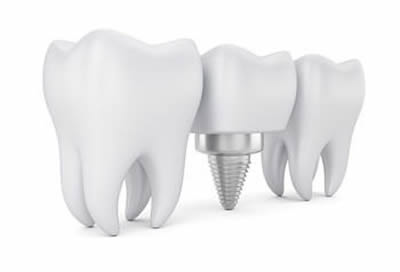 If you have missing teeth, you do not have the same ability to chew that you used to. You might even feel embarrassed about showing your smile and are ready to take action. At O Dental, we offer the most advanced solution for teeth replacement available: dental implants. This modern approach to tooth replacement has high success rates and allows you to enjoy the benefits of a natural smile.
What are dental implants?
An artificial fixture is placed in the jaw bone to replace a tooth root. Once healed, a crown, bridge or denture is placed on this titanium implant.
What are the advantages?
Dentures and bridges affect your teeth and gums or may not work well for your particular case. A dental implant is a superior option with success rates that are over 95%.
Am I a candidate for dental implants?
Most people are well-suited to receive dental implants. They may not work for people with medical conditions such as uncontrolled diabetes, bone disease or immune suppressive disease. If you smoke, the success rate drops to approximately 10%. We will be happy to evaluate whether you're a candidate.
How does the process work?
We will do an initial consultation that includes photos, X-rays and bite impressions, you will then be sent to a radiographic imaging centre for an assessment of your jaw bone with a CT scan. Specialised 3D software is used to determine the position of the implant. A surgical guide is created to assist in the placement. If the amount of bone you have is reduced, we can usually complete a grafting procedure prior to placing the implant. BOOK NOW

Contact us today to get started! Any surgical or invasive procedure carries risks. Before proceeding, you should seek a second opinion from an appropriately qualified health practitioner.

Dental Implants Zetland, Serving Waterloo, Kensington, Rosebery & Darling Square