General Dentistry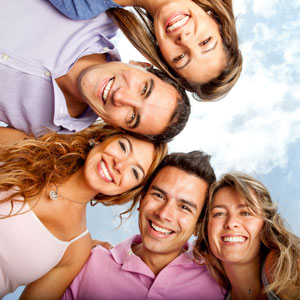 At O Dental, our gentle, experienced team understands that a thorough assessment and proper diagnosis are the keys to successful treatment. We offer a broad range of general dentistry services, covering a variety of needs:
Bad breath treatment
Gum treatments
Restorations
Root canal therapy
Sleep therapy
Sports dentistry
Teeth grinding/clenching problems
Wisdom teeth assessment and extractions*
Bad Breath Treatment
It's common to be plagued by halitosis, or bad breath. What you may not know is that there is a reason for your bad breath. Our treatments are designed to determine why you're having the problem, then provide the solution you need.
Crowns and Bridges
These restorative options can address damaged teeth and missing teeth. A dental crown is a cap that goes over a tooth with a weakened structure. A dental bridge is designed to fill a gap that one tooth or multiple teeth gone missing have left behind. When applied, a crown or bridge will restore your smile and your oral health.
Gum Treatments
If you have gingivitis, it's the first step to suffering from periodontal disease. When this second stage of the disease sets in, you cannot fix it. It can only be managed. With our deeper form of cleaning, we can alleviate the infection in your gums or help you manage it.
Root Canal Therapy
An infection in the tooth may make you feel discomfort or might not feel like anything at all. That's why your regular checkups are essential. If an infection sets in, however, you don't have to worry about getting a tooth extracted. Our gentle root canal therapy can clean the infection and save your tooth from being removed.
Sports Dentistry
If you play a sport, you likely know the danger of being injured. Your mouth is no exception. Your cheeks, teeth, tongue and gums are all subject to having an injury. If trauma occurs, we can provide you with the care you need and fit you for a protective mouthguard to prevent problems from occurring.
Teeth Grinding/Clenching Problems
Grinding and clenching your teeth can lead to painful headaches and discomfort in your body. You can protect yourself from pain and damage by having a custom-made splint, which prevents your teeth from being clenched or grinding together.
Wisdom Teeth Assessments and Extractions
Your wisdom teeth are the final to grow in, located at the back of the mouth. If yours are unable to erupt properly, they can cause many problems. We can evaluate your wisdom teeth to determine if they need to be taken out. If so, we'll provide a gentle extraction.
Learn More Today
If you're thinking about making a change to your smile, you want to know more. Contact our friendly team today to discuss which option might be right for you. Or book in for your first consultation with Dr Caroline for general dentistry Zetland! We have two convenient locations to serve you.

General Dentistry Zetland, Serving Waterloo, Kensington, Rosebery & Darling Square