Teeth Whitening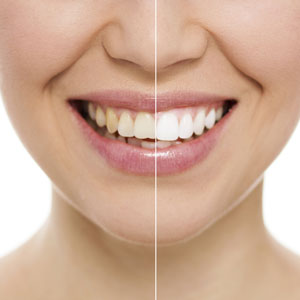 We offer a full suite of services to help you achieve your oral health goals. If you would like to show off whiter, brighter teeth, you can benefit from teeth whitening. The teeth whitening treatments at O Dental allow you to conservatively enhance the aesthetics of your smile.
Teeth whitening doesn't require modifying the teeth themselves; only a slight colour alteration allows you to improve any staining with a simple procedure. Even if the discolouration in your teeth is severe, we have the options to assist you.
Getting a Brilliant, Gleaming Smile
First, we'll assess your teeth and determine which shade of white you'd like to achieve. You'll have a thorough clean and polish, getting rid of as many stains as possible, as well as any calculus present. We offer three different whitening solutions:
In-chair whitening. This type of whitening is ideal for those who want to kick-start the process and have limited time. It works well for those with a big event coming up such as a wedding or for people who can't take much time off work. The Zoom whitening system is highly effective, taking 20 minutes over 3-4 cycles. Your teeth can be made 8-10 shades whiter in a single appointment.
At-home whitening. Done at your convenience in your home, a concentrated bleaching gel is used. It can be combined with in-chair whitening for incredible results.
Comprehensive whitening. If you have deep stains and enamel irregularities, Dr Caroline Oh (Dentist) will customise a treatment that is tailored to your needs.
FAQ
Which form of whitening is best for me?
Choosing to have your whitening done in our office or at your home is entirely up to you. We do advise our patients, however, that the more powerful whitening results occur from in-chair whitening. You may want to get an instantly-whiter smile, in which case we recommend you come to our clinic for whitening. If you're not in a hurry, then a take-home kit might be more appropriate for you.
How long will my results last?
Your whitening will last for some time if you care for your teeth properly. You should avoid staining food, drinks and tobacco use. Be sure to brush, floss and have your teeth cleaned regularly. With these elements combined, your results will last for as long as possible.
Can I touch up my whitening when it begins to fade?
Yes. You can redo your whitening procedure at regular intervals. Dr Caroline will discuss what is appropriate for you.
Will my teeth be sensitive after my whitening procedure?
It's normal to experience some sensitivity in a day or two after you've had your teeth whitened. It should, however, fade with time so that you're not bothered by it for long.
Book Your Appointment Now
Find out what we can do to achieve the smile you want with our broad array of treatment options. Contact us today to find out more about teeth whitening in Zetland and Waterloo, Kensington, Rosebery & Darling Square!

Teeth Whitening Zetland, Serving Waterloo, Kensington, Rosebery & Darling Square, NSW