Veneers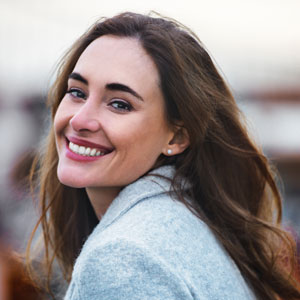 At O Dental, we provide quality care using our advanced equipment and techniques. With our years of experience, we're the perfect place in Zetland to help you improve your smile. If you have imperfections in your smile, we may recommend that you get dental veneers.
With our veneers, you can see exactly what results you'll get before deciding veneers are the right step for you. Dentist Dr Caroline Oh utilises the latest in digital technology to create a mock-up that can be placed on your teeth. You'll be able to see what you can achieve before making a commitment and can proceed with confidence. Check out our feature in Vogue magazine!
What Are Veneers?
A veneer is an extremely thin shell that's bonded to your front teeth. Custom-created for your particular needs, they're made from strong porcelain. When we design your veneers, the information is sent to our local laboratory. There, Australian-made materials are used to create your veneers.
When complete, the lab will return them to our office. You'll come back for a follow-up and have your veneers cemented into place when you and Dr Caroline have both decided that you're satisfied with the results.
Can You Benefit From Veneers?
Veneers are an effective solution for many common dental problems:
Chipped teeth
Gapped teeth
Misaligned teeth
Misshapen teeth
When your veneers are applied, you'll be able to show off a gorgeous Hollywood smile. We want to help you feel confident and make a memorable first impression on others. A broad range of imperfections can be easily completed with veneers in Zetland.
The Process of Getting Veneers
A complimentary consultation will determine whether veneers are the right solution to meet your goals. If so, we'll create them from moulds to perfectly match the look you want. The moulds will be sent to our laboratory. There, our experienced laboratory technicians will take your moulds and create your veneers. Each is made perfectly to our specifications.
The veneers are then returned to our practice, and we'll invite you back for a follow-up appointment. We'll place the veneers on your teeth and make sure that you are pleased with the results. Then, a bonding adhesive cements the veneers into place, finishing your treatment.
Getting Used to Your New Smile
We recommend a period of two weeks to get used to the feel and shape of your transformed smile. Though you may experience sensitivity to cold or heat, we'll advise you on exactly what you can expect afterwards.
Veneers can last for many years if properly maintained. Dr Caroline recommends a stringent dental health program to our patients so that any cosmetic work can be preserved for as long as possible. There are some simple tips you can follow, such as avoiding chewing on ice cubes or biting your nails and visiting O Dental for your regular dental checkups.
Book Your Consultation Now
If you would love to make improvements to your smile, our team is here to assist you. Contact O Dental today to schedule your initial consultation with us!

Dental Veneers Zetland, Serving Waterloo, Kensington, Rosebery & Darling Square, NSW