Wisdom Teeth Removal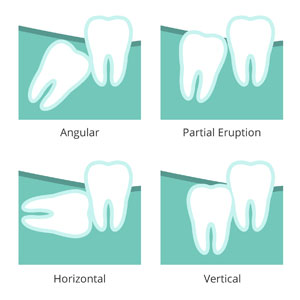 At O Dental, you'll find an array of dental solutions. We can provide the comprehensive care you need through each stage of life. If you have a teenager or are in your early twenties, you're probably familiar with the wisdom teeth. They're the final ones to grow into your mouth and are located at the back. If you have problems with your wisdom teeth, we can provide a gentle extraction if it is required.
Our On-Site Surgeon
Dentist Dr Yuval Samuni, who is a maxillofacial surgeon, is a member of our team. As we want you to be comfortable through your procedure, our surgeon uses a gentle touch. We're skilled in providing comfortable wisdom teeth extraction procedures. You'll feel at ease and ready to proceed after we detail the process to you so that you know exactly what to expect.
FAQ
Wisdom teeth, or third molars, are usually the last of your teeth to erupt. They usually come in when you're in your late teens. There is often not enough room in your mouth for them to surface, necessitating a surgical removal.
What is the recovery period after having your wisdom teeth removed?
You shouldn't need more than a few days to a week to recover from your procedure. We'll advise you on postsurgical care so that you understand how best to help your healing progress as quickly as possible.
Is there pain involved in wisdom teeth removal?
We take all necessary precautions to ensure that you don't feel any discomfort during your procedure. We'll use local anaesthetic to numb the area. Nitrous oxide is also available. If you are concerned about your ability to handle the wisdom teeth removal procedure, let us know and we'll discuss your options.
What is the first step in getting my wisdom teeth extracted?
We need to perform an assessment of your teeth as the first step. We'll see you for a consultation to examine your wisdom teeth. If we determine that they need to be extracted, we'll let you know what you can expect and book you in for the procedure.
How long does it take to have your wisdom teeth removed?
The duration of the procedure will largely depend on the placement of your wisdom teeth. We'll take diagnostic imaging to determine the location of these teeth and the best way to go about removing them. In total, the typical procedure does not take more than an hour.
What should I do afterwards to ensure my recovery?
There are several guidelines you must follow so that you heal quickly. We'll go over these with you before your appointment so that you can prepare.
Book Your Consultation Now
Schedule your appointment with our caring, helpful team today. Or give us a call now to learn more about wisdom teeth removal Zetland and whether you're a candidate. Health fund coverage can be used for your visits.

Wisdom Teeth Removal Zetland, Serving Waterloo, Kensington, Rosebery & Darling Square