Case Study: Irina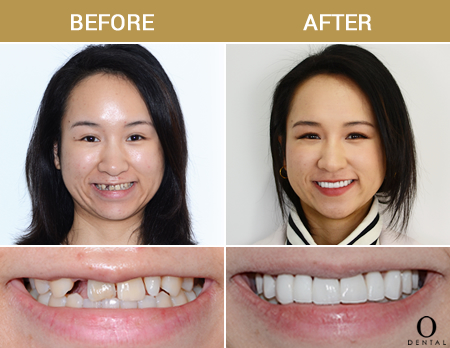 Dental Problems
Discoloured tooth, missing teeth with small peg lateral tooth. She went to another dentist and wanted more cosmetic experience.
Background
Wanted whitest shade possible and larger teeth. Successful entrepreneur.
Treatment
Porcelain veneers and bridges.
How long did it take?
1st visit: Records were taken, including photos and impressions. Direct mock-up was done.
2nd visit: Mock-up smile was shown and discussed
3rd visit: Teeth were prepped and temporary restorations were placed.
4th visit: Final smile was delivered.
Irina was so thrilled with her new smile, and is featured in the biannual Vogue Cosmetic edition 2018 with Dr Caroline Oh.

Dentist Zetland, Serving Waterloo, Kensington, Rosebery & Darling Square